EJE 07-02 Uso de SIG para análises de impactos da expansão urbana sobre morfologias do relevo nas zonas leste e sul do município de Marília (São Paulo, Brasil)
Vanessa Ramos dos Santos

José Tadeu Garcia Tommaselli

Edson Luís Piroli
Resumen
RESUMO
A necessidade tida pela sociedade em planejar e organizar o espaço em que está contida e se relaciona, busca apoio em diferentes técnicas e áreas do conhecimento. O uso de Sistemas de Informações Geográficas (SIG), tornou-se importante aliado no mapeamento e espacialização das informações, e um mecanismo viável para as análises sobre espaço e base para tomadas de decisões. O uso dos SIG para análises de impactos da expansão urbana sobre morfologias do relevo pode facilitar a vida dos planejadores pois estes permitem a manipulação e realização de análises complexas ao integrar grandes volumes de dados. O objetivo desse trabalho foi analisar informações sobre o meio físico e sobre a expansão urbana nas zonas leste e sul do município de Marília (São Paulo, Brasil). As informações consideradas foram sobre as características do contexto geológico, dos solos, da geomorfologia, da suscetibilidade a erosão, do zoneamento urbano e das informações sobre inclusão e exclusão social nas zonas estudadas. Essas informações foram trabalhadas em ambiente SIG, no qual foram realizados cruzamentos entre os mapas. O produto desses cruzamentos refere-se aos mapas de inclusão/exclusão social em classes de declives nas zonas analisadas. Os mapas e dados obtidos mostram que, embora num mesmo contexto de fragilidade ambiental, a expansão urbana na zona leste apresenta baixa vulnerabilidade social, enquanto que é alta nazona sul. Conclui-se, portanto, que para as análises dos impactos da expansão urbana sobre
morfologias do relevo, o uso de SIG permitiu análises e a interpretações dos resultados com precisão e segurança.

Palavras chave: Impactos, expansão urbana, morfologias do relevo, geoprocessamento, município de Marília (São Paulo, Brasil).

ABSTRACT
The society necessity to plan and organize the space in which it is contained and related, is supported in different techniques and knowledge areas. The use of Geographic Information Systems (GIS) has become an important allied in the mapping and information spatialization, and a viable mechanism for space and base analysis for making decision. The GIS are used to analyze the impacts of urban expansion on terrain relief morphologies,
it can be able to be easier for planners because they allow the manipulation and accomplishment of complex analyzes by integrating large data volumes. The objective of this work was analyzed informations about the  physical environment and urban expansion in the eastern and southern zones of the Marília municipality (São Paulo, Brazil). The informations considered were the characteristics of geological context, soils, geomorphology,
susceptibility to erosion, urban zoning and information on social inclusion and exclusion in the studied areas. These informations were worked in a GIS, in which crossings between the maps were accomplished. The product of these crossings refers to social inclusion/exclusion maps in slope classes in the analyzed areas. The maps and data obtained show that, although in the same context of environmental fragility, urban expansion in the
eastern zone presents low social vulnerability, while it is high in the south. It was concluded, therefore, that for the analysis of the impacts of urban expansion on relief morphologies, the use of GIS allowed for analysis and interpretation of the results with precision and security.

Keywords: Impacts, urban expansion, relief morphologies, geoprocessing, Marília municipality (São Paulo, Brazil).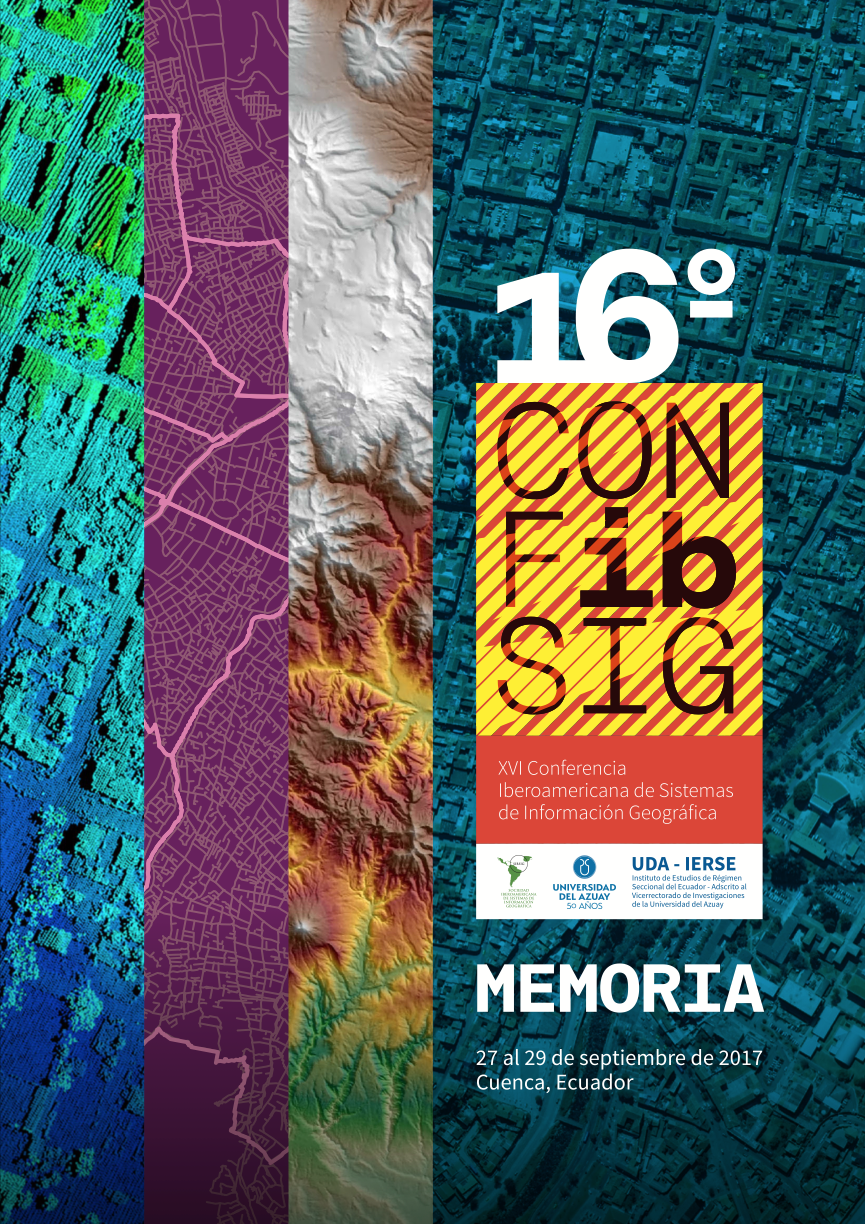 Cómo citar
Ramos dos SantosV., Garcia TommaselliJ. T., & PiroliE. L. (2017). EJE 07-02 Uso de SIG para análises de impactos da expansão urbana sobre morfologias do relevo nas zonas leste e sul do município de Marília (São Paulo, Brasil). Memorias Y Boletines De La Universidad Del Azuay, 1(XVI), 343 - 348. Recuperado a partir de http://revistas.uazuay.edu.ec/index.php/memorias/article/view/80