EJE 02-06 Geotecnologias aplicadas ao estudo de desastres naturais causados pela mudança no uso da terra em microbacia hidrográfica
Edson Luis Piroli

Gabriela Lourenco

Vanessa Ramos dos Santos
Resumen
RESUMO
A ocupação de espaços sem planejamento e de maneira intensificada tem causado problemas cada vez maiores em vastas regiões do globo terrestre. Um dos mais significativos está relacionado ao manejo das águas pluviais, que via de regra, são desconsideradas naimplantação de núcleos urbanos, e que causam importantes transtornos, riscos e prejuízos quando acumuladas na superfície, sem um direcionamento adequado ou sem sistemas de retenção e de infiltração no solo. Neste contexto, esta pesquisa avaliou o uso da terra na cabeceira da microbacia do córrego Monjolinho localizada na área urbana do município de Ourinhos, nos anos de 1972 e de 2014, e as mudanças ocorridas entre os anos de 1972 e de 2014. Utilizou-se na classificação das imagens o aplicativo ArcGIS 10.3 ena avaliação das mudanças o módulo LCM (Land Change Modeler) do software Idrisi Taiga. Verificou-se que houveram importantes transformações na cobertura do solo da área estudada, influenciando, nas taxas de infiltração da água das chuvas no solo e nas taxas de escoamento superficial. Esta condição tem causado enxurradas e inundações na área. Após as análises verificou-se que as geotecnologias utilizadas permitiram a realização das atividades necessárias com rapidez e confiabilidade, permitindo a formação de um banco de dados contendo as características da área e os locais de maior risco. O banco de dados gerado pode ainda ser utilizado pelos gestores públicos como fonte de informações para o desenvolvimento de projetos de proteção dos recursos naturais e da população.

Palabras clave: geoprocessamento, sensoriamento remoto, recursos hídricos, água, Sistemas de Informações Geográficas.
ABSTRACT
The unplanned and intensified spaces occupation has caused increasing problems in vastregions of the globe. One of the most significant is related to the management of rainwa-
ter, which, as a rule, is disregarded in the implantation of urban space, causing significant disturbances, risks and damages when accumulated on the surface, without adequate
steering or without retention systems and infiltration. In this context, this research evaluated the land use at the headwaters of the Monjolinho stream watershed located in the ur-
ban area of Ourinhos municipality, in the years 1972 and 2014, and the changes occurred between 1972 and 2014. It was used in the classification of the images the software ArcGIS 10.3 and in the evaluation of the changes the module LCM (Land Change Modeler) of the software Idrisi Taiga. It was verified that there were important transformations in the soil cover of the studied area, influencing, the infiltration rates of rainwater in the soil and the rates of surface runoff. This condition has caused flash flood and floods in the area. After the analyzes, it was verified that the geotechnologies used allowed the necessary activities to be carried out quickly and reliably, allowing the formation of a database containing the characteristics of the area and the places of greatest risk. The generated database can also be used by public managers as a source of information for the development of projects to protect natural resources and the population.

Keywords: geoprocessing, remote sensing, water resources, water, Geographic Information System.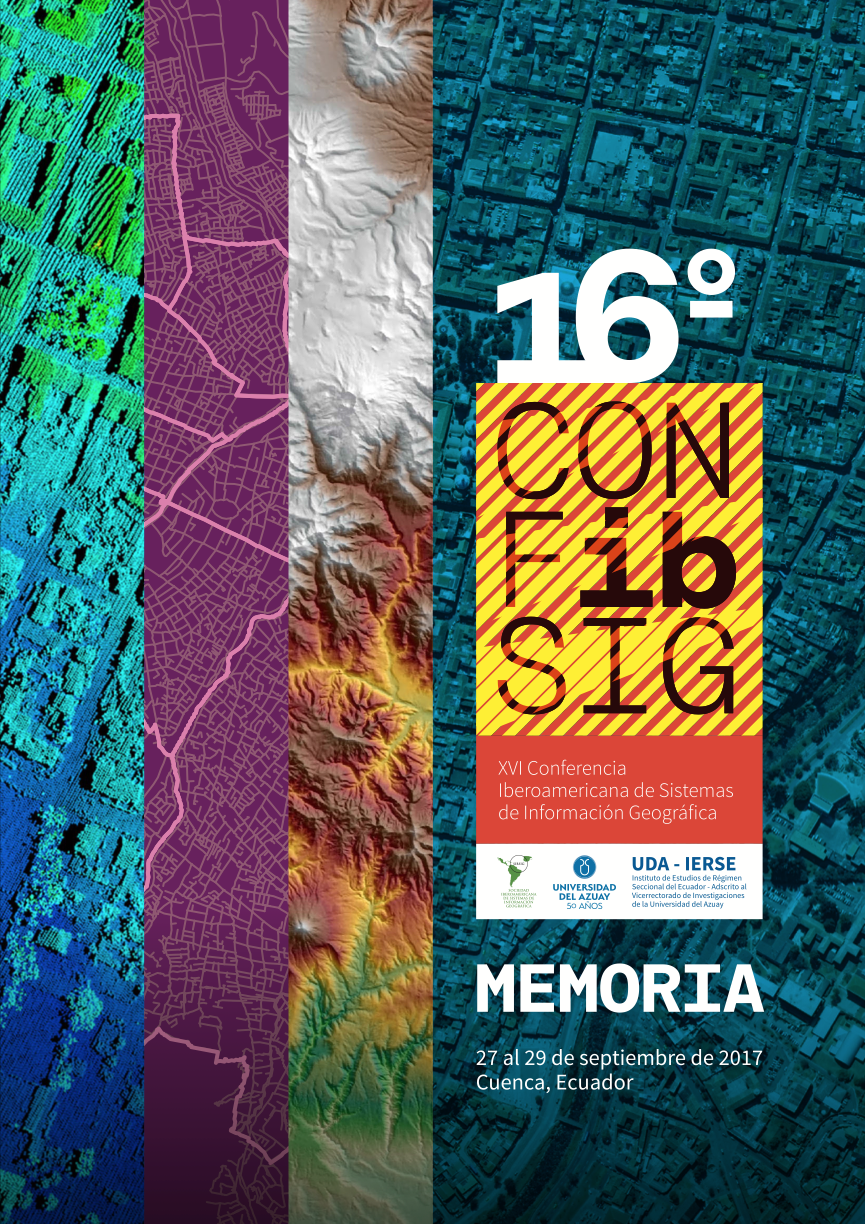 Cómo citar
PiroliE. L., LourencoG., & Ramos dos SantosV. (2017). EJE 02-06 Geotecnologias aplicadas ao estudo de desastres naturais causados pela mudança no uso da terra em microbacia hidrográfica. Memorias Y Boletines De La Universidad Del Azuay, 1(XVI), 89 - 94. Recuperado a partir de http://revistas.uazuay.edu.ec/index.php/memorias/article/view/52